MA-09 DX
Leader of the Mechas
The DX Series includes leader machines who govern the Mecha Army, and...An ultimately-tuned customized machine!
Animal Number: A159
Rarity: Ultra Rare
Strength: 7000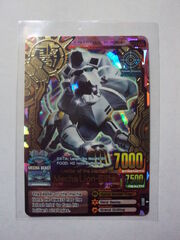 Health: 7500
Nickname: Leader of the Mechas
Scientific Name: Machine-Animal 09 HGX
Data: Length: 3m Weight: 6t
Food: HZ Ionic Batteries
Miracle Link: Multi
Ability: Iron Heart, Weak Point Attack
Affiliation: Mecha Beast
Description: The leader of the mecha lions. He always has the latest intel to form his brilliant strategies
Attacks:
Guts: Hakai Shirei "Leo" (Specialty Move)
Tech: Denji Baster
Power: Grand Drilling
Trivia:
Mecha Lion-Elite is the boss of Evo.4
The ability "Iron Heart" allows the animal to become immune to the abilities "Poison", "Curse" and "Vampire". The user, however, will still take normal damage
The ability "Weak Point Attack" activates when Mecha Lion-Elite is low on health. The next attack will deal a massive amount of damage with this ability
Community content is available under
CC-BY-SA
unless otherwise noted.