Animal Number: A108

Rarity: Ultra Rare
Strength: 7500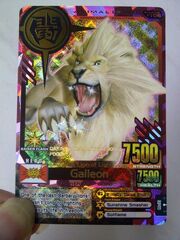 Health: 7500
Nickname: The Lion of Light
Scientific Name: Panthera Leo Leo
Data: Length: 2.9m Weight: 300kg
Food: ? ? ?
Miracle Link: Multi
Ability: Kaiser Flash
Affiliation: Hero
Description: One of the last Barbary lions, it doesn't cling to fighting but lives its life in freedom
Attacks:
Guts: Finally Dead End (Specialty Move)
Tech: Sunshine Smasher
Power: Solflame
Trivia:
The ability "Kaiser Flash" allows Galleon to raise both Strength and Defense. Galleon shares this ability with Kaiser Coral and Celeo
Galleon is the father of Leo the Lion Cub and Apollo the Liger Cub. He is also the grandfather of the Young Lion of Light, Celeo
Galleon was the Evo. 1 normal mode boss. In Evo. 2 he became an Ultra Rare card which could be won. Along with every other boss card, he made a comeback in Evo. 8
He and Scorch were once the protégés of the legendary "Kaiser Coral"; the previous Animal Kaiser
Galleon made an appearance in the first volume of the Animal Kaiser comic
Galleon is one of the many collectible animal figures sold in Japan
Galleon is 60 centimeters shorter and 80kg lighter than Death Scorch
Community content is available under
CC-BY-SA
unless otherwise noted.