Elder Pedronomus is the 18th Animal Kaiser and has returned from heaven to fight Armageddon Vertus,together with 6 other Animal Kaisers of the past.

Animal Number: A179
Rarity: Kaiser Rare
Strength: 8000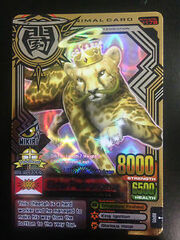 Health: 6500
Nickname: The 18th Animal Kaiser
Scientific Name: Acinonyx Jubatus
Data: Length: ? Weight: ?
Food: Doesn't Eat
Miracle Link: Multi
Abilities: Mikiri,Holy Burst
Affiliation: Animal Kaisers of the Past
Description: This cheetah is a hard worker and he managed to make his way form the bottom to the very top.
Attacks:
Guts: Zettaikanzen Finishend (Specialty Move)
Tech: King Ignition
Power: Glorious Hoop
Trivia:
Elder Pedronomus shares the skill "Zettaikanzen Finishend" with the 6 other Kaisers of the Past. Zettaikanzen translates to "Absolute Perfection" in English
The ability "Mikiri" allows Elder Pedronomus to have a higher chance of evading an attack. Each time he is hit, one Mikiri stack is gained (Max. 3)
The ability "Holy Burst" raises the level of each of Elder Pedronomus' attacks to 5
Elder Pedronomus may go through the "Holy Change" (Shinsei Ohgi)
Community content is available under
CC-BY-SA
unless otherwise noted.